Technical Specifications
6250 Amp (peak current)
12/24 Volts
Works with up to 45L Gas and Diesel engines
Operating temperature: -22°F to +122°F (-30°C to +50°C)
USB-A Out: Dual 5V, 2.1A
12V Cigarette adapter DC port
Charge time for 1 jump start: 5 minutes
Fast charging time: 8.5 hrs to full charge
High Temperature Error LED
Low Temperature Error LED
Error LED
2200 Lumen LED flashlight
12.63 (length) x 7.31 (width) x 6.39 (height) inches
19 lbs (6.67kg)
The noco gb500 jump starter compared vs similar items
Item
NOCO Boost Max GB500 6250 Amp 12-Volt and 24-Volt UltraSafe Portable Lithium Jump Starter Box, Battery Booster Pack, and Commercial Jumper Cables for Gasoline and Diesel Engines Up to 45-Liters
YESPER 12V/24V Car Jump Starter, 6000A Peak 4.1 lbs Portable Jump Starter Battery Pack 42000mAh Battery Booster Pack (Up to All Gas/Diesel Engine) Jumper Box with LED Screen…
AUTOGEN 12V & 24V Jump Starter 10000Amp Lithium Iron Phosphate (LiFePO4) Battery, Booster Jumper Box with Smart LED Screen Built-in LED Light
Peak Current
12V/10000A – 24V/5000 Amps
Time from 0 to 100% charge
Operating Ambient Temperature
-22°F to +122°F (-30°C to +50°C)
Not specified but claims it works in high temperatures
LED Flashlight
Yes but no Lumens specified
Yes but no lumens specified
Dimensions
12.63 x 7.31 x 2.39 inches
14.4 x 11.92 x 5.07 inches
Reverse Polarity Protection
Item
NOCO Boost Max GB500 6250 Amp 12-Volt and 24-Volt UltraSafe Portable Lithium Jump Starter Box, Battery Booster Pack, and Commercial Jumper Cables for Gasoline and Diesel Engines Up to 45-Liters
Time from 0 to 100% charge
Operating Ambient Temperature
-22°F to +122°F (-30°C to +50°C)
Dimensions
12.63 x 7.31 x 2.39 inches
Reverse Polarity Protection
Item
YESPER 12V/24V Car Jump Starter, 6000A Peak 4.1 lbs Portable Jump Starter Battery Pack 42000mAh Battery Booster Pack (Up to All Gas/Diesel Engine) Jumper Box with LED Screen…
Time from 0 to 100% charge
Operating Ambient Temperature
LED Flashlight
Yes but no Lumens specified
Reverse Polarity Protection
Item
AUTOGEN 12V & 24V Jump Starter 10000Amp Lithium Iron Phosphate (LiFePO4) Battery, Booster Jumper Box with Smart LED Screen Built-in LED Light
Peak Current
12V/10000A – 24V/5000 Amps
Time from 0 to 100% charge
Operating Ambient Temperature
Not specified but claims it works in high temperatures
LED Flashlight
Yes but no lumens specified
Dimensions
14.4 x 11.92 x 5.07 inches
Reverse Polarity Protection
The noco jump starter gb500 compared with other noco boosters
Image
Engines size it can start
Up to 45.0L Gas & Diesel Engines
Up to 16.0L Gas & Diesel Engines
Up to 32.0L Gas & Diesel Engines
Protections
Spark Proof & Reverse Polarity Protection
Spark Proof & Reverse Polarity Protection
Spark Proof & Reverse Polarity Protection
Hot/Cold internal temperature LED indicator
Auto power conservation mode
Image
Engines size it can start
Up to 45.0L Gas & Diesel Engines
Protections
Spark Proof & Reverse Polarity Protection
Hot/Cold internal temperature LED indicator
Auto power conservation mode
Image
Engines size it can start
Up to 16.0L Gas & Diesel Engines
Protections
Spark Proof & Reverse Polarity Protection
Hot/Cold internal temperature LED indicator
Auto power conservation mode
Image
Engines size it can start
Up to 32.0L Gas & Diesel Engines
Protections
Spark Proof & Reverse Polarity Protection
Hot/Cold internal temperature LED indicator
Auto power conservation mode
What's in The Package?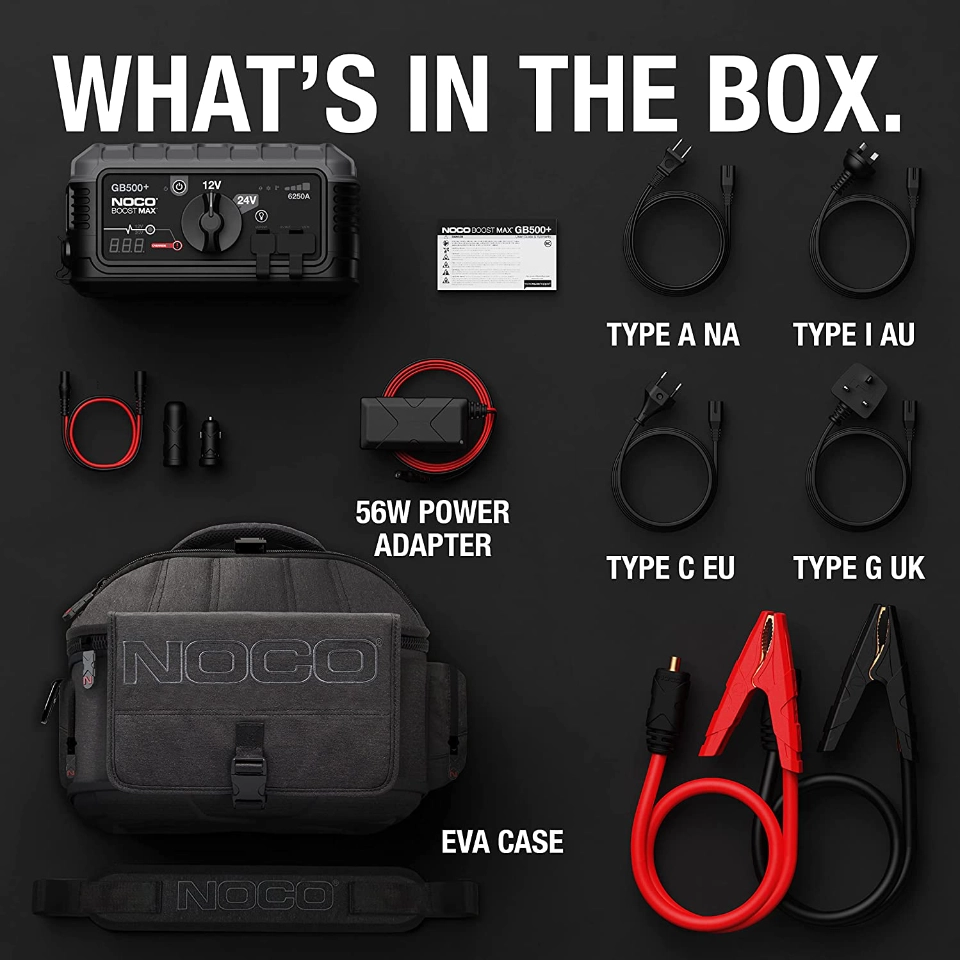 NOCO Boost Max GB500 6250A 12V/24V
56W Power Adapter with interchangeable 60-inch (1. 5m) AC Cords for Australia (Type I), Europe (Type C), North America (Type A), and the United Kingdom (Type G)
XGC Kit
Max Protection EVA Protective Case
User manual
ADVANTAGES of the noco boost gb500
This is a time and frustration saving investment: If you have commercial vehicle and don't have one of these with you, a dead battery may cause you delays and ruin your job plan for the day or the week.
This jump starter pack worths every penny: When you think about all delays, fines, and expenses a dead battery can cause, the price of the GB500 is a real bargain.
12/24V & 6250 Amps: This jump starter is designed to work with any 12/24V vehicle, gas or diesel, of up to 45 L engine size.
Superb performance and jump start function: The 6250 Amps this unit produces makes it almost impossible to fail to jump start any vehicle, and if a drained battery is in the way, the manual override function simply forces it to start.
Electronics power source: As powerful as it is, this jump starter can also power your 5V electronics like phones, cameras, drones and more.
2x USB A Ports: These ports help you charge your electronic devices.
12V Port: Power tire inflators and other appliances like small coffee machines.
12V Car Cigarette adapter: Charge your Noco Boost Max GB500 on the go and always have it ready should you need it.
5 min = 1 jumpstart: Other boosters need 50 or 80% of their battery charge to operate, but the GB500 gives you at least 1 effective jump start with 5 minutes of charge.
Quick Charge: The included XGC power adapter charges your Noco Boost 6250A in 8.5 hours from 0 to 100% charge.
Sparks free protection: Yes, even if the clamps touch each other, the Ultra Safe technology avoids sparks being part of the jump starting experience.
Reverse polarity free protection: People cause extreme and expensive damage to their cars when they place jumper cables to the wrong battery terminal. The GB500 lets you know if the connection is reversed and doesn't operate until the connection is right.
Internal Battery Temperature protection: To protect your investment, the GB500 lets you know if the internal battery temperature is not right for operation. Other similar boosters don't do this and allow you to operate them in the wrong temperature, damaging the internal battery.
Auto Power Conservation: This automatic feature will save the booster's battery by switching it off after 60 seconds of pushing the On button. This way the GB500 will keep its charge and be ready for when you need it.
Engineered with Lithium battery: The brutal power of this unit and incredible portability is thanks to using a lithium battery, which stores more power in less space than traditional lead-acid batteries.
2200 Lumen lamp: This amount of light will help you see in the dark and boost your vehicle correctly. Perfect if you happen to be stranded at the middle of the road without anyone to help you.
noco gb500 reviews from current customers
This is the most powerful jump starter Noco produces, which already says a lot. It is designed for the commercial sector and current users are happy with their purchase. Here are some of those comments if you want to review them.
So far this product has come thru and performed pretty good on several uses; 12 volt & 24 volt systems. However for about 2 thousands dollars; you'll get only…
I purchased this product to use in a fleet environment that has both 12v and 24v vehicles. The first unit failed after not much more than a week. It would no longer charge the internal…
Great jump pack, don't be afraid to buy it. Turns a dear semi over with no problem in the freezing temps. It will crank it over multiple times before it quits….
HOW TO USE THE gb500+ noco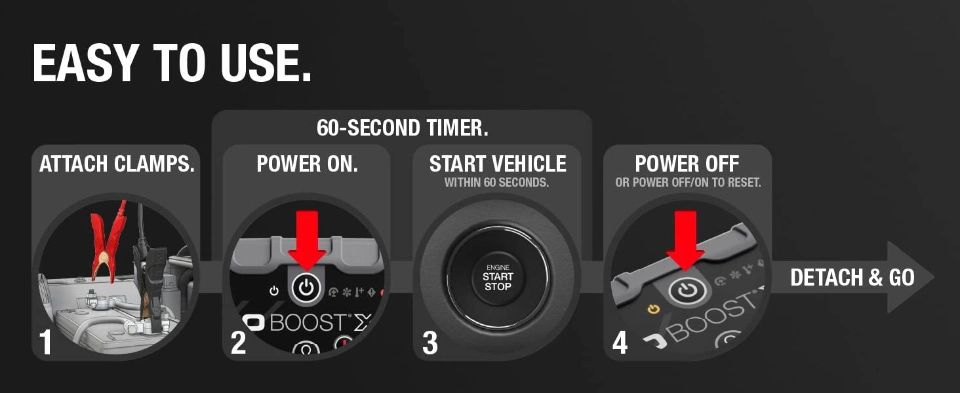 Operating this jump starter is very simple, yet here are a few notes are worth mentioning if this is the 1st time you use one of these jumpers.
1st of all, the connection of the clamps must be solid and right, that is, the red clamp to the positive terminal of the battery and the black to the negative one.
Push the On button and when the charge LEDs describe a chasing pattern and the BOOST Led is solid white, you can start the engine.
After this, turn off the booster and disconnect the clamps.
Yet, if things don't go that smooth for you, here are some comments I think you can use based on my experience using these boosters.
IF AN LED IS ON OR BLINKING THERE IS AN ERROR THAT NEEDS CORRECTION
OK – NO ERROR LEDS BUT NO CHASING PATTERN, NO BOOST LED AND NO NOTHING!!!
Check the car battery voltage in your GB500 when connected to the booster. If it is under 2V, this is a clear confirmation the force start function is needed.

Some batteries can have more than 2V and still be heavily discharged, so the force start mode still applies.

But before using the manual override, remember it disables all safety features, so follow each step in the right order to have a successful and safe jump start.
Ensure the connection is right and tight.
After this, push the manual override button for about 3 seconds until the chasing pattern appears and the BOOST LED blinks on and off. This tells the force start function is active and the booster will force current to the battery.
Turn on the engine.
When finished, turn off the booster GB500 and disconnect the clamps, in that order.
User Manual and Specification Sheet
What You Need to Know Before Buying the GB500 jump starter
GET THE GB500 TODAY!
FAqS
How many jump starts can I get before needing a recharge?
Several, although it will depend on the size of the engines, the condition of these, and the ambient temperature among other factors.
Bottom line is this jump starter can give you several jumps on a row and with a single charge.
HOW LONG DOES IT TAKE TO FULL CHARGE?
8.5 hours when using the included XGC power adapter. The other way to charge this unit and through its 12V cigarette adapter. You can charge it while on the go and always have it ready for when it is needed.
Does this unit have inverter?
No. The GB500 only has USB ports.
Can this unit charge a car battery?
No. Although very powerful, this is only a jump starter. If you are interested in battery chargers then the Genius products from Noco are what you are looking for.
Noco Boost Max GB500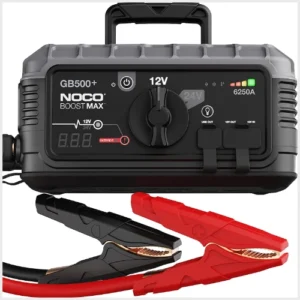 NOCO Boost MAX GB500 | 12V/24V/6250A | 45L Gas & Diesel Engines | ✅ Trusty | UltraSafe | Cost-Efficient | Comparison Table vs similar items.
Product Brand: NOCO Boost
Product Currency: USD
Product Price: 1999.99
Product In-Stock: InStock
Pros
6250 Peak Amps
12 & 24 Volts
Great cost-Benefit
Force Start Function
Spark Proof
Fast Charge