Technical Specifications
1500 Amp (peak current)
12 Volts
Works with up to 7.0L Gas and 4.0L Diesel engines
Operating temperature: -4°F to +122°F (-20°C to +50°C)
USB-A Out: 5V/2.1A
Micro USB In: 5V/2.1A
200 Lumen LED flashlight
8.6 (length) x 3.4 (width) x 2.0 (height) inches
2.71 lbs (1.22kg
Sale
The noco gb50 jump starter compared with similar products
Item
NOCO Boost XL GB50 1500 Amp 12-Volt UltraSafe Lithium Jump Starter Box, Car Battery Booster Pack, Portable Power Bank Charger, and Jumper Cables for up to 7-Liter Gasoline and 4-Liter Diesel Engines
NEXPOW Car Jump Starter,Car Battery Jump Starter Pack 1500A Peak Q10S for Up to 7.0L Gas and 5.5L Diesel Engine12V Auto Battery Booster,Jumper Cables,Portable Lithium Jump Box with LED Light/USB QC3.0
LOKITHOR JA300 Jump Starter with Air Compressor, 1500Amp 12V Portable Car Battery Booster Pack for Upto 7.0L Gas or 4.5L Diesel, 150 PSI Tire Inflator with Digital Screen, 24 Months Ultra-Long Standby
Jump starts on a single charge
Holds its charge in stand-by for
Operating Ambient Temperature
-4°F to +122°F (-20°C to +50°C)
Not Specified but claims to work in cold weather
LED Flashlight
Yes but no Lumens specified
Dimensions
8.6 (length) x 3.4 (width) x 2.0 (height) inches
9.99 x 5.57 x 4.07 inches
Reverse Polarity Protection
Item
NOCO Boost XL GB50 1500 Amp 12-Volt UltraSafe Lithium Jump Starter Box, Car Battery Booster Pack, Portable Power Bank Charger, and Jumper Cables for up to 7-Liter Gasoline and 4-Liter Diesel Engines
Jump starts on a single charge
Holds its charge in stand-by for
Operating Ambient Temperature
-4°F to +122°F (-20°C to +50°C)
Dimensions
8.6 (length) x 3.4 (width) x 2.0 (height) inches
Reverse Polarity Protection
Item
NEXPOW Car Jump Starter,Car Battery Jump Starter Pack 1500A Peak Q10S for Up to 7.0L Gas and 5.5L Diesel Engine12V Auto Battery Booster,Jumper Cables,Portable Lithium Jump Box with LED Light/USB QC3.0
Jump starts on a single charge
Holds its charge in stand-by for
Operating Ambient Temperature
Not Specified but claims to work in cold weather
LED Flashlight
Yes but no Lumens specified
Reverse Polarity Protection
Item
LOKITHOR JA300 Jump Starter with Air Compressor, 1500Amp 12V Portable Car Battery Booster Pack for Upto 7.0L Gas or 4.5L Diesel, 150 PSI Tire Inflator with Digital Screen, 24 Months Ultra-Long Standby
Jump starts on a single charge
Holds its charge in stand-by for
Operating Ambient Temperature
Dimensions
9.99 x 5.57 x 4.07 inches
Reverse Polarity Protection
The GB50 vs the other noco boost line of products
Image
Model
NOCO Boost Sport GB20 500 Amp
NOCO Boost Plus GB40 1000 Amp
NOCO Boost HD GB70 2000 Amp
NOCO Boost Pro GB150 3000 Amp
Jump Starts on a single charge
Engine Size it can start
Up to 7.0L Gas & 4.5L Diesel Engines
Up to 6.0L Gas & 3.0L Diesel Engines
Up to 8.0L Gas & 6.0L Diesel Engines
Up to 9.0L Gas & 7.0L Diesel Engines
Image
Jump Starts on a single charge
Engine Size it can start
Up to 7.0L Gas & 4.5L Diesel Engines
Image
Model
NOCO Boost Sport GB20 500 Amp
Jump Starts on a single charge
Image
Model
NOCO Boost Plus GB40 1000 Amp
Jump Starts on a single charge
Engine Size it can start
Up to 6.0L Gas & 3.0L Diesel Engines
Image
Model
NOCO Boost HD GB70 2000 Amp
Jump Starts on a single charge
Engine Size it can start
Up to 8.0L Gas & 6.0L Diesel Engines
Image
Model
NOCO Boost Pro GB150 3000 Amp
Jump Starts on a single charge
Engine Size it can start
Up to 9.0L Gas & 7.0L Diesel Engines
What comes inside the box?
GB50 battery booster jump starter pack
Heavy-duty battery clamps
USB charging cable
12-volt USB car charger
Microfiber storage bag
User manual
GB50 Jump starter ADVANTAGES
12V & 1,500 Amps: Most commercial cars are 12V systems and even V8's gas based engines need 400 amps to start, and Diesel motors use up to 800 amps. With a booster like this, you can jump almost any car out there.
Trusty worthy: You can't predict when a dead battery will be in your way. But don't worry, whenever this happens your GB50 will be ready to work! (Just don't forget to charge it).
Low-Cost: NOCO is the leading brand in the market for these jumper boxes. Counting all the features it has and backing it up with the confidence the NOCO name carries, this booster is a bargain.
Manual override: Some flat-dead batteries are not detected by jump starters and thus the jump can't happen. The manual override function forces power to the battery, even if its not detected, for a successful start, and not all jump starters have this function. The GB50 has it!
Small electronics charger: Use its Type-A USB port to charge your phone and other small electronics. If you are in an emergency situation, this booster will never let you out of battery.
Several jumps in a row: These units have lots of power and depending on factors like engine condition, ambient temperature, and charge of the battery, the GB50 can give you up 30 jumps in a row.
No Sparks: We all hate when the clamps of jumper cables touch each other because sparks are not cool. The UltraSafe technology of the NOCO 1500 Amp jump starter gets rid of this since no sparks will appear, even if clamps touch when operating.
No Reverse Polarity: Don't know the red goes to the positive and the black to the negative? No worries. If you connect these wrong, the NOCO Boost GB50 will lit its reverse polarity LED to tell you the connection needs to be reversed.
Lithium Powered: These jumper boxes are so small, yet so effective because they use Lithium batteries. If you are looking to buy a jump starter, make sure it has a Lithium battery.
200 Lumen Tactical flashlight: Dead battery at night? No problem, this booster has an integrated flashlight with 200 Lumens to brighten the situation.
Other products you may want to consider for your booster
noco boost gb50 reviews from customers
There are videos and comments all over the place online about the portable GB50 NOCO booster pack because people rely on it and it works when they need it to. Check some of those here.
Sale
Worth the buy. Worked exactly as needed. Good tool to have on hand. "Better to have it and not need it, than need it and not have it…
I purchased this item so that if my wife were ever to need a jump she wouldn't have to ask anyone for assistance. I purchased 2 of these 1 for her and 1 for myself…
Have owed the GB50 XL (1500A) for over a year and I've had to use it twice on my 2003 Chevy Silverado 1500HD Crew Cab (6.0 liter engine). Both times, it performed flawlessly…
how to jump start your car with the GB50
3 simple steps and you'll be back on the road.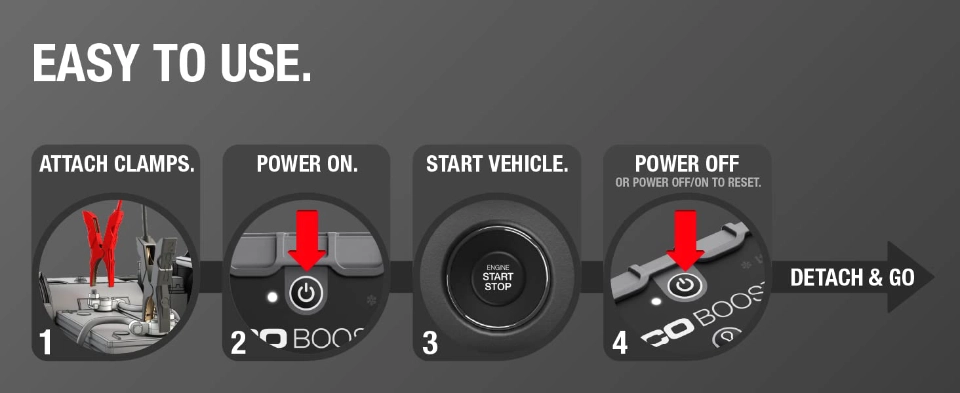 While operation is pretty simple, there are a few things you want to consider.
The red clamp goes to the positive pole of the battery and the black clamp can go either to the negative pole or to a metal, unpainted screw of your car.
If all is good to go, then the charge LEDs will blink in a following pattern and the BOOST LED will lit, which means the NOCO is passing juice your car's battery. In this case, wait 3 seconds and start your car.
What if there is an LED illuminated or blinking?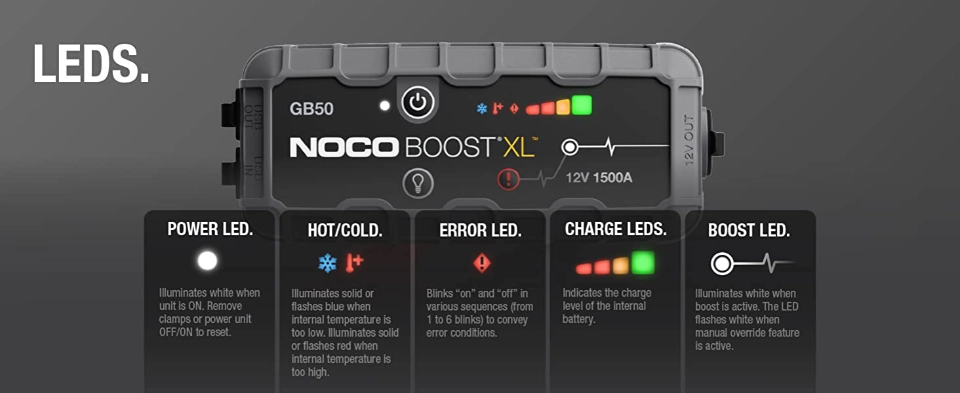 If the temperature for operation is not optimal, the Hot/Cold LEDs will lit. The most common error is a reverse polarity, and the ♦︎ LED turns solid red when this happens. If it blinks, then it indicates other errors and you can check the manual below to find out more.
no error led illuminated but still nothing happens
This happens when the battery is heavily discharged, and it is pretty common. In this case, push the manual override button for 3 seconds to use the force start function.
The BOOST LED will blink to indicate the manual override is active and you can try to start your car. Note that with manual override mode activated, the safety protections are disabled, so use extreme caution when using this mode.
Check these videos for more instructions.
User Manual and Specification Sheet
What You Need to Know Before Buying the GB50 jump starter
Manual override disables safety features: Use extreme caution when activating manual override function since spark proof and other safety features are disabled.
No USB-C port: If you are looking for a USB-C port for fast charging your phone, this booster does not come with one.
Wall charger is not included: The wall charger for the GB50 is sold separately. You can use another you have at home or charge the booster directly from a USB port of your computer.
Get the gb50 noco Boost xl today!
Sale
FAqS
Is this a battery charger as well?
No. This is only a jump starter.
In fact, none of the NOCO Boost products charges a car battery. For that you want to check the Genius line of products
What electronics can I charge with this booster?
Only small ones like cameras, drones, phones, and pretty much everything that is 5V and 2.1A
Will it work with a boat or a lawn mower?
Yes, as long as these have 12V batteries and its engine size is not above 7L gas or 4L Diesel, this unit can do the work.
Is this powerful enough to jump start 8-cylinder vehicles?
Yes. Most 8 cylinder and gasoline cars need only around 400 amps to get started, so the GB50 can easily jump these ones.
What about my 4-cylinder car? Is it too powerful or can it damage it?
No. The booster will provide only the energy required to start your car, so it won't damage anything.
NOCO Boost XL GB50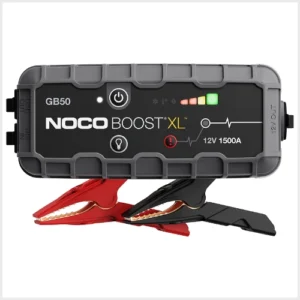 ▷ Noco Boost XL GB50 | 12V-1500A | Jump starts v4 - v8 cars | 7L gas and 4L diesel engines. Best ✅ value if compared with similar products.
Product Brand: NOCO Boost
Product Currency: USD
Product Price: 149.95
Product In-Stock: InStock
Pros
7.0L Gas/4.0L Diesel
Reliable
1500 Peak amps
Cost Effective
Force Start Function
No Sparks
Cons
No USB-C port
Wall charger is not included