Technical Specifications
1750 Amp (peak current)
12 Volts
Works with up to 7.5L Gas and 5.0L Diesel engines
Operating temperature: -4°F to +122°F (-20°C to +50°C)
USB-A Out: 5V/2.1A
USB-C Out: 5V (3A/9V 3A/12V 3A/15V 3A/20V 3A)
USB-C In: 5V (1.5A/9V 3A/12V 3A/15V 3A/20V 3A)
Charge time for 1 jump start: 5 minutes
Fast charging time: 72 minutes full charge
Reverse Polarity Error LED
High Temperature Error LED
Low Temperature Error LED
Error LED
200 Lumen LED flashlight
7.7 (length) x 4.9 (width) x 2.5 (height) inches
2.58 lbs (1.17kg)
The noco gbx 55 compared with a similar product
Item
NOCO Boost X GBX55 1750A 12V UltraSafe Portable Lithium Jump Starter, Car Battery Booster Pack, USB-C Powerbank Charger, and Jumper Cables for up to 7.5-Liter Gas and 5.0-Liter Diesel Engines
AstroAI Jump Starter with Air Compressor,1750A 12V Battery Jump Starter with 150PSI Digital Tire Inflator, Up to 7.5L Gas & 5.0L Diesel Engines, Visible LCD Screen with Jumper Cable, AC Charger
Time from 0 to 100% charge
USB A
OUT: 5VDC 2.1A Max / 10 W Max
OUT: QC3.0 (5V/3A, 9V/2A, 12/1.4A); 5V2.8A, 5V/2A
USB C
In: 5V (1.5A/9V 3A/12V 3A/15V 3A/20V 3A); OUT: 5V (3A/9V 3A/12V 3A/15V 3A/20V 3A)
IN: 5V/2.8A, 9V/1.8A, 12/1.4A
Operating Ambient Temperature
-4°F to +122°F (-20°C to +50°C)
-4℉ to 122℉ (-20℃ to 50℃)
LED Flashlight
Yes but no Lumens Specified
Dimensions
8.62 x 7.44 x 4.21 inches
Reverse Polarity Protection
Item
NOCO Boost X GBX55 1750A 12V UltraSafe Portable Lithium Jump Starter, Car Battery Booster Pack, USB-C Powerbank Charger, and Jumper Cables for up to 7.5-Liter Gas and 5.0-Liter Diesel Engines
Time from 0 to 100% charge
USB A
OUT: 5VDC 2.1A Max / 10 W Max
USB C
In: 5V (1.5A/9V 3A/12V 3A/15V 3A/20V 3A); OUT: 5V (3A/9V 3A/12V 3A/15V 3A/20V 3A)
Operating Ambient Temperature
-4°F to +122°F (-20°C to +50°C)
Reverse Polarity Protection
Item
AstroAI Jump Starter with Air Compressor,1750A 12V Battery Jump Starter with 150PSI Digital Tire Inflator, Up to 7.5L Gas & 5.0L Diesel Engines, Visible LCD Screen with Jumper Cable, AC Charger
Time from 0 to 100% charge
USB A
OUT: QC3.0 (5V/3A, 9V/2A, 12/1.4A); 5V2.8A, 5V/2A
USB C
IN: 5V/2.8A, 9V/1.8A, 12/1.4A
Operating Ambient Temperature
-4℉ to 122℉ (-20℃ to 50℃)
LED Flashlight
Yes but no Lumens Specified
Dimensions
8.62 x 7.44 x 4.21 inches
Reverse Polarity Protection
The noco boost x gbx 55 compared with other jump packs from noco
Image
Engines size it can start
Up to 7.5L Gas & 5.0L Diesel Engines
Up to 6.5L Gas & 4.0L Diesel Engines
Up to 8.5L Gas & 6.0L Diesel Engines
Up to 10.0L Gas & 8.0L Diesel Engines
Image
Engines size it can start
Up to 7.5L Gas & 5.0L Diesel Engines
Image
Engines size it can start
Up to 6.5L Gas & 4.0L Diesel Engines
Image
Engines size it can start
Up to 8.5L Gas & 6.0L Diesel Engines
Image
Engines size it can start
Up to 10.0L Gas & 8.0L Diesel Engines
WHAT IS IN THE BOX?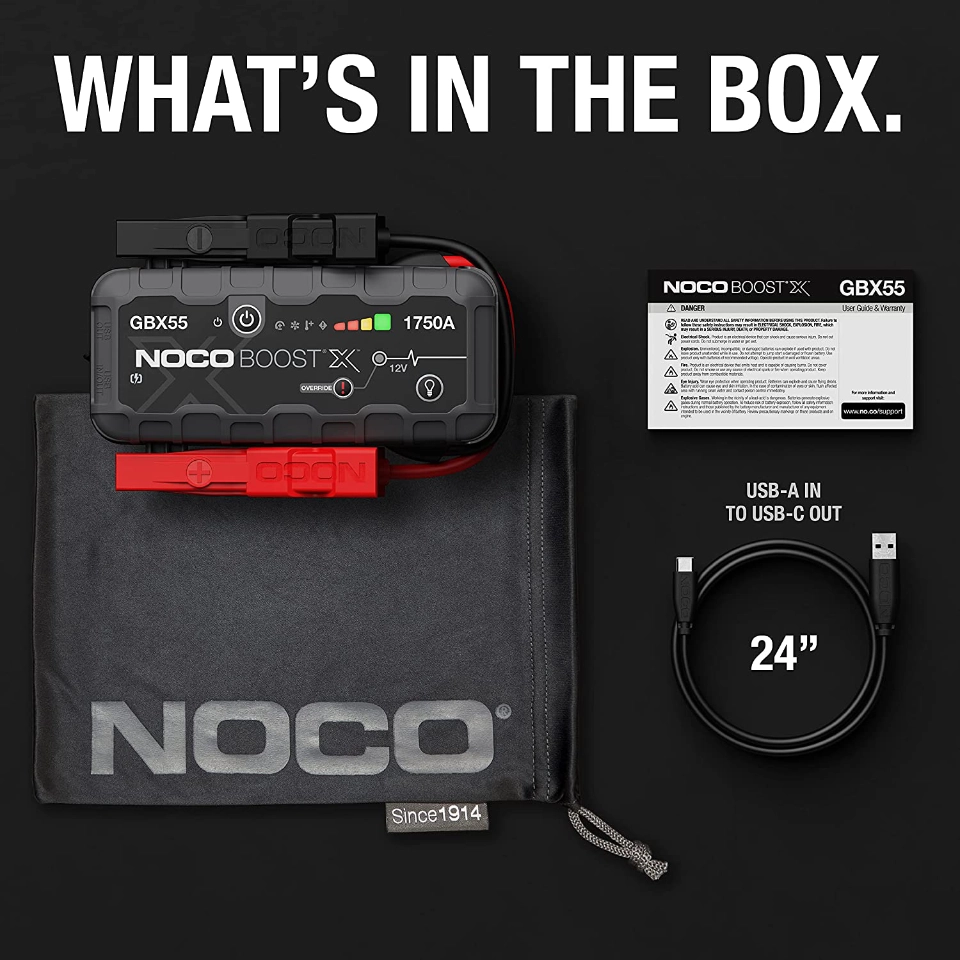 GBX55 Booster
24″ USB-C TO USB-A cable
Storage bag
User guide
gbx55 noco boost advantages
1750 Amps: The way your battery turns on the engine is with the Amps it produces. A HEMI motor of 8 cylinders (big gasoline motor) requires about 400 Amps to start, and if it is a diesel motor about 800. 1750 Amps are more than enough to start most commercial cars out there.
Great cost-benefit ratio: The GBX55 gives you a reliable jump starter and a powerful battery charger for your small gadgets. All of this is backed by the Noco guarantee of 1 year and you have a product that gives a lot for a reasonable price.
You can rely on it: Many other jump starters claim they are as powerful or more than the Noco GBX55, yet when you need them, they fail. Noco developed this technology to ensure you get back on the road in no time, and their claims are backed by the numbers.
Manual override: Not all jump starters offer this because it is hard to disable safety features and do an effective jump start. The GBX55 from Noco does this magnificently and you can trust the unit will still be functional regardless of using the manual override or not.
Gadgets charger: Don't let your cameras, drones, smartwatches and other devices die. This battery booster is also a power bank for charging your gadgets.
USB-A & USB-C: The USB-A port is out and the USB-C is in/out. This is why this booster has fast charge capabilities for both your devices and the booster itself.
1 jump start in 5 minutes: Charge the GBX55 for 5 minutes and it will get enough charge for effectively jump starting your car at least once.
72 minutes to 100% charge: The fast charging capability is a game changer. While the adapter for fast charging is sold separately, it is worth the money since the unit is fully charged quickly.
Anti-Sparks safety feature: Forget about the dangers of using jumper cables to jump start a car. The Ultra Safe 2.0 technology of the GBX55 makes it safe and easy to start your engine without the risk of sparks. Just remember the manual override function, disables safety features.
Reverse Polarity safety feature: Many people connect the jumper cables in the wrong order and end up damaging the car's electronics. The Noco Boost X GBX55 avoids this with the reverse polarity protection.
Hot/Cold Temperature Protection: Lithium batteries can operate only in a specific range of temperatures. If the ambient temperature is too hot or too cold, the GBX55 will indicate it so you can wait for it to cool down or help it to get warmer.
Power conservation mode: This ensures the charge of the internal battery of your booster is better managed. Other boosters stay On forever and get discharged, and when you need them they are empty, but the NOCO GBX55 shuts itself down after 60 seconds of pushing the On button.
Lithium Internal Battery: This is the secret behind these efficient and portable jump starters. Lithium batteries have better discharge rates and can store more power in less space.
200 Lumen LED flashlight: This flashlight will illuminate your way in case you find yourself stranded with a dead battery at night. You can use the flashlight even if the jump starter is not being used.
Other products you may find useful
reviews from current customers
The GBX55 Noco booster is a reliable and effective jump starter that works the way it is supposed to when you expect it to work. People brag about it online and here are some of those comments.
I don't write reviews, but I'm going to on this thing. I have a huge jacked up 4×4 dodge big hemi motor. Been having issues with electrical, battery…
I am very disappointed with this charger. I read great reviews and thought I was purchasing a charger that had a better name and track record than the countless other made…
I bought this for my 23 year old daughter for Christmas. She has used it on her car and to start a friends. I have the gbx75 and use it every day for…
HOW TO USE THE gbx55 noco?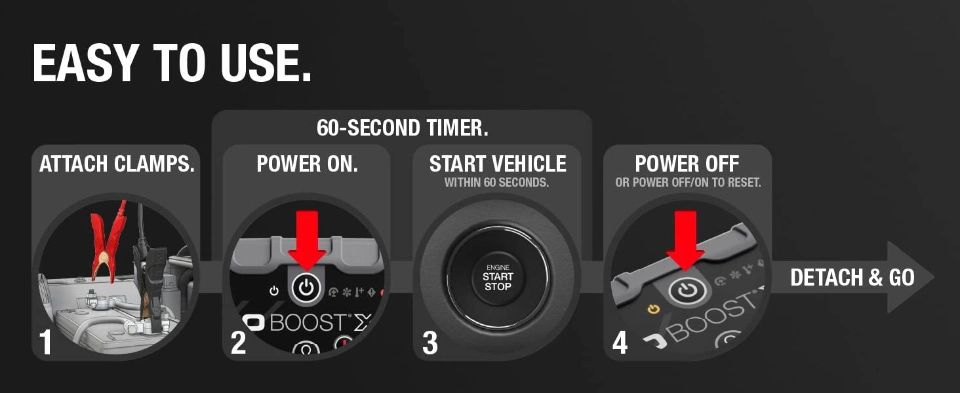 A few notes for those that have not used these boosters in the past:
Make sure you attach the clamps in the right order, that is, red to positive and black to negative.
If all is good, the moment you push the On button the Charge LEDs should chase each other and the BOOST LED will turn solid white. This means you can start your car.
What if the leds don't chase and other LEDS ARE LIT?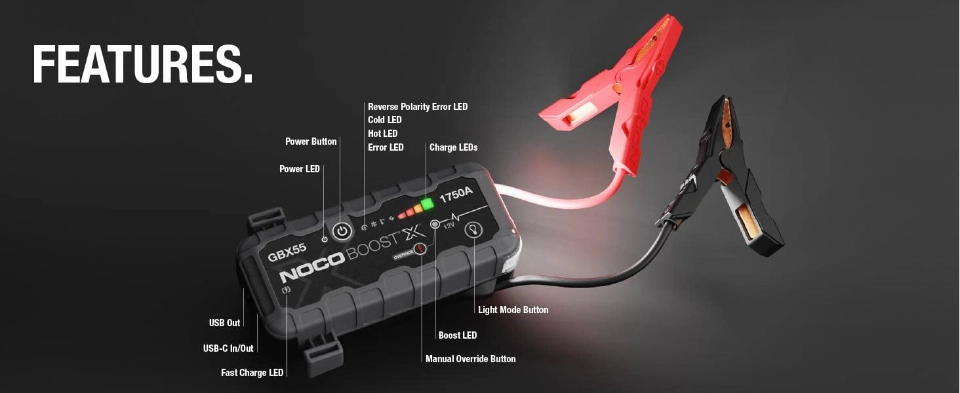 It is a good idea to check the specification sheet below to see what is the error depending on which LED is turned on.
Most common issue is a reverse polarity, so just make sure you correct this and give it a try.
NO LEDS ON BUT ALSO NO CHASING PATTERN!
This is the time to use the manual override function. Just remember to be super careful when using it since safety features get disabled.
Once you make sure the connection is right, that is, you have red to positive and black to negative, press and hold the manual override button for 3 seconds.
This will force power to the battery and the BOOST LED will flash. This indicates the booster is operating and you can start your engine.
Check these quick and easy to follow videos for a visual reference.
User Manual and Specification Sheet
What You Need to Know Before Buying the GBX55 jump starter
Manual override also disables safety features: Be careful when using the force start function since it disables safety features and you could see some sparks if the clamps touch each other.
Neither the fast nor the wall charger come inside the box: While you can charge the GBX55 from your computer or using a spare wall adapter, you must consider the package does not contain neither the fast charger nor a wall adapter.
GET YOUR noco boost gbx55 HERE!
FAqS
WHERE CAN I GET THE FAST CHARGER OR THE WALL ADAPTER?
Both items are sold separately and if you will get the fast charger, then there is no need to get the wall adapter.
You can get those here.

WHAT CARRYING CASE FITS THE GBX55?
The GBC102.

How long will it hold its charge when not in use?
About 12 months. Yet it is recommended to recharge your unit every 6 months.
What is the difference between the gb AND gbx MODELS?
Many. GBX have a USB-C port, fast charge, and higher amp rating than the GB models. Also, they come Ultra Safe technology 2.0, which means they have more descriptive LEDs to display errors.
IS THIS ONLY A JUMP STARTER OR CAN IT ALSO CHARGE A CAR BATTERY?
Only a jump starter. These boosters are not intended and not recommended to use as spare batteries and they don't have the capability to charge your car's battery.
Noco Boost X GBX55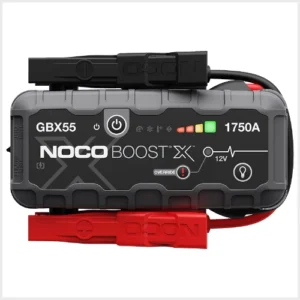 The NOCO Boost X GBX55 | 12V/1750A | 8 Cyl. trucks | 7.5L Gas & 5L Diesel engines | ✓ Trusty & Smart Buy | Comparison Table vs similar items.
Product Brand: Noco Boost X
Product Currency: USD
Product Price: 174.95
Product In-Stock: InStock
Pros
Array
Array
Array
Array
Array