Technical Specifications
2500 Amp (peak current)
12 Volts
Works with up to 8.5L Gas and 6.5L Diesel engines
Operating temperature: -4°F to +122°F (-20°C to +50°C)
USB-A Out: 5V/2.1A
USB-C Out: 5V (3A/9V 3A/12V 3A/15V 3A/20V 3A)
USB-C In: 5V (1.5A/9V 3A/12V 3A/15V 3A/20V 3A)
12V Cigarette adapter DC Port
Charge time for 1 jump start: 5 minutes
Fast charging time: 102 minutes full charge
Reverse Polarity Error LED
High Temperature Error LED
Low Temperature Error LED
Error LED
400 Lumen LED flashlight
8.41 (length) x 5.40 (width) x 2.52 (height) inches
3.77 lbs (1.71kg)
The gbx75 jump starter compared vs similar items
Item
NOCO Boost X GBX75 2500A 12V UltraSafe Portable Lithium Jump Starter, Car Battery Booster Pack, USB-C Powerbank Charger, and Jumper Cables for up to 8.5-Liter Gas and 6.5-Liter Diesel Engines
NEXPOW Battery Jump Starter 2500A Car Jump Starter (up to 8.0L Gas/8L Diesel Engines) 12V Car Battery Booster Pack with USB Quick Charge 3.0 and 4 LED Modes Red Blue Warning
LOKITHOR J401X Car Battery Jump Starter 2500A 12V -40℉ Auto Heating Battery Booster Jump Starter Pack with 100W Two-Way Fast Charge for up to 8.5L Gas and 6.5L Diesel Engines
Time from 0 to 100% charge
USB A
OUT: 5VDC 2.1A Max / 10 W Max
OUT: 5V/3A, 9V/2A, 12/1.5A; 5V2.1A
USB C
In: 5V (1.5A/9V 3A/12V 3A/15V 3A/20V 3A); OUT: 5V (3A/9V 3A/12V 3A/15V 3A/20V 3A)
IN: 5V/3A, 9V/2A, 12/1.5A
Operating Ambient Temperature
-4°F to +122°F (-20°C to +50°C)
14℉ to 140℉ (-10℃ to 60℃)
-40℉ to 122℉ (-40℃ to 50℃)
LED Flashlight
Yes but no Lumens Specified
Yes but no Lumens specified
Dimensions
9.45 x 4.19 x 2.36 inches
Reverse Polarity Protection
Item
NOCO Boost X GBX75 2500A 12V UltraSafe Portable Lithium Jump Starter, Car Battery Booster Pack, USB-C Powerbank Charger, and Jumper Cables for up to 8.5-Liter Gas and 6.5-Liter Diesel Engines
Time from 0 to 100% charge
USB A
OUT: 5VDC 2.1A Max / 10 W Max
USB C
In: 5V (1.5A/9V 3A/12V 3A/15V 3A/20V 3A); OUT: 5V (3A/9V 3A/12V 3A/15V 3A/20V 3A)
Operating Ambient Temperature
-4°F to +122°F (-20°C to +50°C)
Reverse Polarity Protection
Item
NEXPOW Battery Jump Starter 2500A Car Jump Starter (up to 8.0L Gas/8L Diesel Engines) 12V Car Battery Booster Pack with USB Quick Charge 3.0 and 4 LED Modes Red Blue Warning
Time from 0 to 100% charge
USB A
OUT: 5V/3A, 9V/2A, 12/1.5A; 5V2.1A
USB C
IN: 5V/3A, 9V/2A, 12/1.5A
Operating Ambient Temperature
14℉ to 140℉ (-10℃ to 60℃)
LED Flashlight
Yes but no Lumens Specified
Reverse Polarity Protection
Item
LOKITHOR J401X Car Battery Jump Starter 2500A 12V -40℉ Auto Heating Battery Booster Jump Starter Pack with 100W Two-Way Fast Charge for up to 8.5L Gas and 6.5L Diesel Engines
Time from 0 to 100% charge
Operating Ambient Temperature
-40℉ to 122℉ (-40℃ to 50℃)
LED Flashlight
Yes but no Lumens specified
Dimensions
9.45 x 4.19 x 2.36 inches
Reverse Polarity Protection
The GBx75 compared with THE noco X boosters
Image
Engines size it can start
Up to 8.5L Gas & 6.0L Diesel Engines
Up to 6.5L Gas & 4.0L Diesel Engines
Up to 7.5L Gas & 5.0L Diesel Engines
Up to 10.0L Gas & 8.0L Diesel Engines
Image
Engines size it can start
Up to 8.5L Gas & 6.0L Diesel Engines
Image
Engines size it can start
Up to 6.5L Gas & 4.0L Diesel Engines
Image
Engines size it can start
Up to 7.5L Gas & 5.0L Diesel Engines
Image
Engines size it can start
Up to 10.0L Gas & 8.0L Diesel Engines
What's in The Package?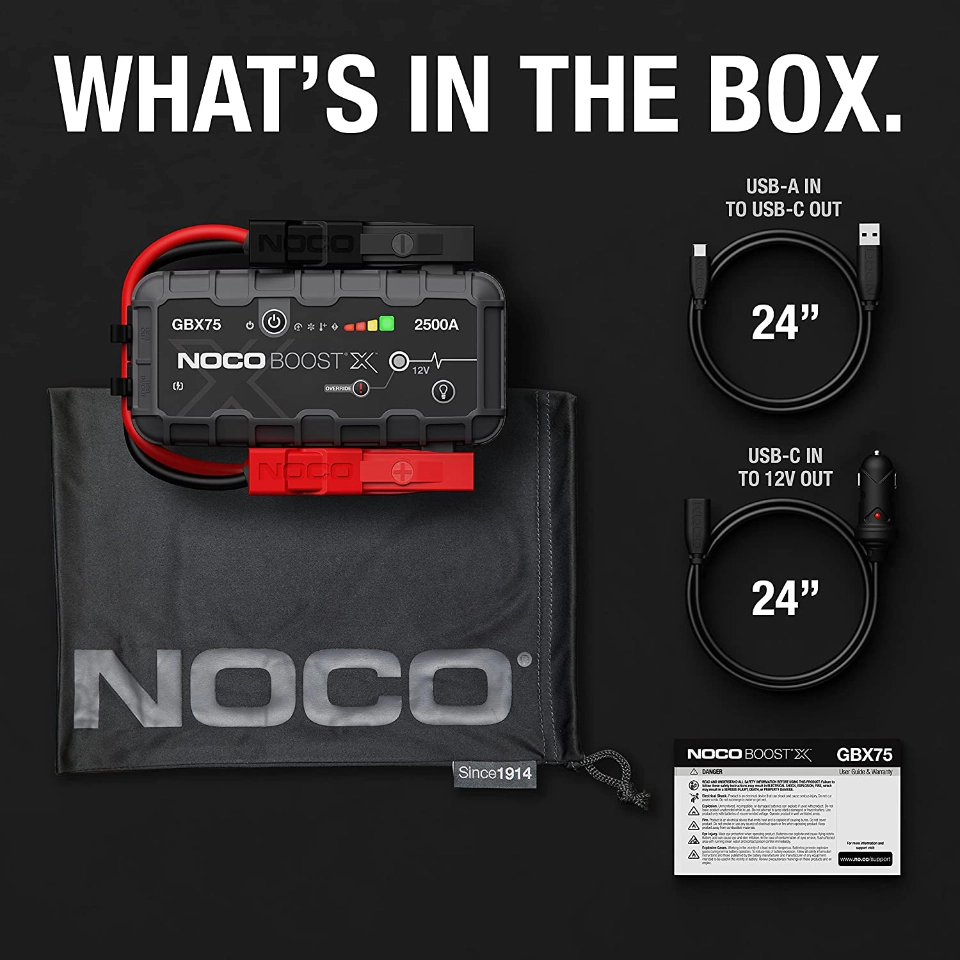 GBX75 Jump starter
24″ USB-C to USB-A cable
24″ 12V to USB-C cable
Storage bag
User Manual
ADVANTAGES of the GBX75
2500 Amps: This amount of current is massive. That is why it can handle pretty big motors without hesitation. It doesn't matter if you own a small 4-Cyl. car or a big 8-Cyl. one. The GBX75 will handle it effortlessly.
Cost-Benefit Beyond expectations: The GBX75 may seem a bit pricey at the beginning, but when you consider all the power you get and realize this is an investment for your peace of mind, you'll find out this is money very well spent.
Your family can depend on it: There are very few things worse than going on a family road trip and a dead battery ruins the day. You can wait for hours before a good samaritan helps you. With the GBX75 there is no need to rely on strangers and you can get back on the road in 30 seconds.
Manual force start function: Some battery boosters don't detect a battery if it is heavily discharged. This is why a force start function is important. It will force power through the car's battery to start the engine, even if the car has been sitting for months.
Phone and other gadgets charger: This car jump starter also works as a power bank for phones, drones, and other small electronics.
USB-A/USB-C: The USB ports available charge your small electronics and the booster as well.
12V Cigarette adapter: The GBX75 comes with a 12V power adapter to charge it directly from your car and have it ready whenever you need it.
5 minutes to a 1 jumpstart: This is thankS to its quick charge. Simply plug the Noco Boost X GBX75 2500A 12V for 5 minutes and it will have enough juice for 1 effective jump start.
Fast charge: Fully charges in 102 minutes when using the 60W wall charger (sold separately).
No sparks make it safe: Its Ultra Safe technology makes it easy and intuitive to use without sparks or other surprises, even if clamps touch each other. Just plug it and that's it. Worth to mention the manual override function disables the safety features, so consider this when using it.
Reverse clamps connection protection: Many people damage their car when jump starting a vehicle because they connect the clamps in the wrong order. Thanks to the reverse polarity protection you won't suffer this. The GBX75 will tell you if the clamps are attached in the wrong order so you can connect them right.
Hot/Cold ambient temperature protection: If the internal battery temperature is not right, the GBX75 will prevent the operation. This is important because when Lithium batteries are hot they should not be used. Other boosters don't offer temperature protection.
Shuts down automatically: People sometimes forget to turn off these jumper packs and leave them on, which drains the battery. Then when they need it, the booster is not charged. The GBX75 auto shuts down itself after 60 seconds of turning it on, to ensure the unit stays charged.
Internal battery made of Lithium: Lithium batteries can store more power in less space than lead-acid batteries. This allows these boosters to be box-shaped and amazingly portable.
400 Lumen lamp: Dead battery at night? Don't worry because the integrated LED flashlight will lit your way to an effective jump start.
Other products you may find useful
COMMENTS and reviews from current customers
Noco builds these jump starters with a goal in mind: help people jump start their cars, and the GBX75 gets it right. The comments online from current customers show evidence of this.
Check some of these comments below.
The product is great. Looks and feels well made. Very compact compared to a set of cables that you would normally carry around just to jumpstart youR battery from another…
This thing came beautifully packaged in a stout box with foam sides. Further packaged in an attractive seal, which was in another cardbox box, which was in a larger…
The NOCO Boost X GBX75 2500A 12V UltraSafe Portable Lithium Jump Starter is an absolute game-changer. I have used it multiple times on several cars with great success…
HOW TO USE THE gbx75 noco boost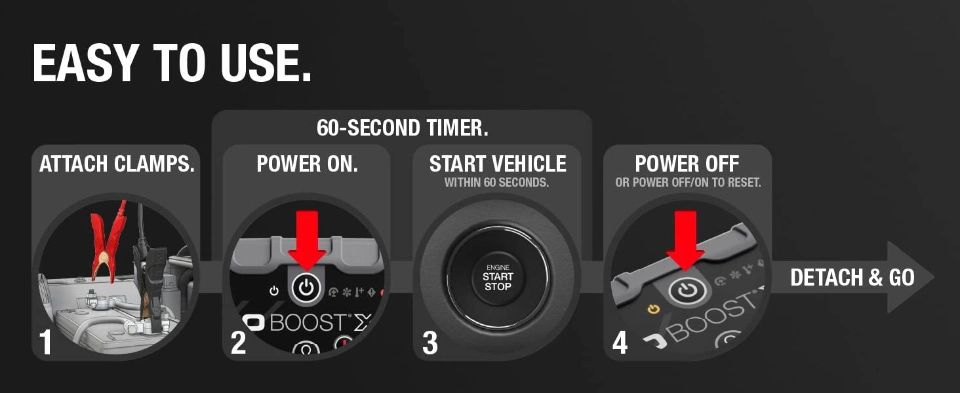 A few notes for the ones using this type of boosters for the first time:
Ensure you attach the clamps to the right battery terminal.
Once this is done and you push the ON button, the Charge LEDs will chase and the BOOST LED will turn white. This indicates you can start your car.
But what if things don't go that smooth? Here is what you need to know.
if ONE OR MORE ERROR LEDs are on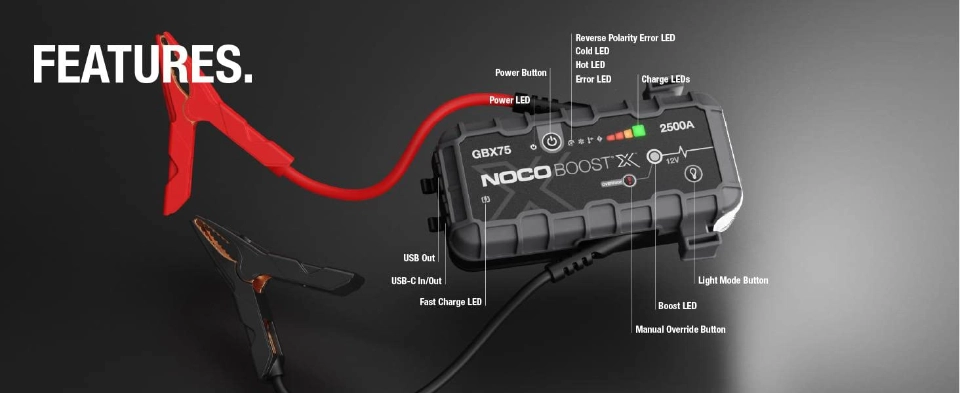 Feel free to check the specification sheet in this post to understand what the error is and how to correct it.
However, the most common problem is a reverse polarity error, that is, you attached the clamps to the wrong battery terminals. If this is the case, both the Error LED and the reverse polarity LED will turn red.
Simply correct the connection.
For other errors please refer to the documentation in this post so you know how to solve it.
no error led but no chasing pattern either!
This means the car battery is discharged and the GBX 75 does not detect it. If this is the case then you need to use the manual override function.
First of all make sure the connection is right, that is, the red clamp is on the positive terminal and the black clamp on the negative one.
After this press and hold the manual override button for 3 seconds until the BOOST LED flashes. Once this happens, the force start function has kicked in and you can start your motor.
Here a few instructional videos for you to follow.
User Manual and Specification Sheet
OTHER THINGS TO CONSIDER BEFORE BUYING THE gb x 75 noco
Manual override disables safety features: If you need to use the manual override then remember clamps should not touch each other because the spark proof function is disabled and you will see sparks.
Wall charger not included: Most people don't care about this because they can still charge the unit from their car, a USB port in their laptop or with a spare wall charger from an old phone. Yet if you want to charge it directly from the wall outlet then you'll need to get the adapter which is sold separately.
get the GBX75 today!
FAqS
is there a protective case that fits the 75 gbx?
Yes. The GBC103 is the one for this unit. You can get it here:

Sale
Will this jump start a semi truck?
It can, but it is not designed for that type of vehicles. For those you may want to check the NOCO Boost Max jump starters, which have more power and can start trucks and semi trucks.
cAN i START MY FORD F350 DIESEL MOTOR WITH IT?
The Ford 350 has a 6.0L diesel engine, so it will start it.
can i charge the car battery with this one?
No. This is only a jump starter and can't charge car batteries.
Noco Boost X GBX75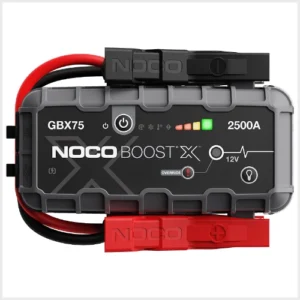 NOCO Boost X GBX75 | 12V/2500A | 8.5L Gas & 6.5L Diesel Engines | ✅ Reliable & Ultra Safe | Comparison Table vs similar items.
Product Brand: NOCO Boost X
Product Currency: USD
Product Price: 242.45
Product In-Stock: InStock
Pros
2500 Peak Amps
Fantastic Cost-Benefit
Reliable
Force Start Function
No Sparks
Cons
Wall charger not included